Snipped from Freddie Yu's post in the RHGC Forums:
AHOY everyone!! The 40K GT is very nearly among us!!!!

Again as a reminder, here are the rulesets...

- Date: June 24 Saturday, Tourney starts at 10 am SHARP!!!
- Venue: #35 General Lim St. Quezon City (street parallel to Quezon avenue, located right behind HEARTBEAT
- Pointage: 1500 points using any 40K GW legal army (those that do not need opponent's consent) using 4th ed rules....
- 3 Games plus....
- 1 Special Scenario: 750 points composed of units from the 1500 list, with the ff organization chart: 0-1 HQ, 0-2 elites, 2-6 troops, 0-3 fast attack, 0-1 Heavy support
- Special rules for the scenario:


a. From the parent squad/choice, you can reduce the number of elements down to the minimum required (ex. in squad alpha, you can reduce from 10 marines down to 5, or in IG command platoon Beta, you can field only the command platoon without any attached HW squad, or 1 death cult assassin instead of 2 etc.)
b. You can REMOVE (not REPLACE) weapon choices from the squad members only (ex. removing special or heavy weapons)...NOT characters and vet sergeants...
c. In cases of units like tyranid warriors, you remove WHOLE models, not individual weaponsd. Vehicles, Monstrous creatures remain as is....Heroes and vet sergeants wargear CANNOT be modified too....


- Needless to say, naming your units would be a big help in the army lists...
- There will be generalship, painting, and sports scores
- There will be a special raffle for all RHGC members who did not win any prize after the tourney
- SUBMIT your lists EARLY!!! There will be a BONUS for early submission of both 750 and 1500 point lists (FRIDAY LATEST TO QUALIFY FOR EARLY SUBMISSION BONUS)...please email to me at freddie.yu@pfizer.com, or to Owen (Ruruoni), or Arthur (Omegatron)- Good luck to everyone!!!!
Map to the venue: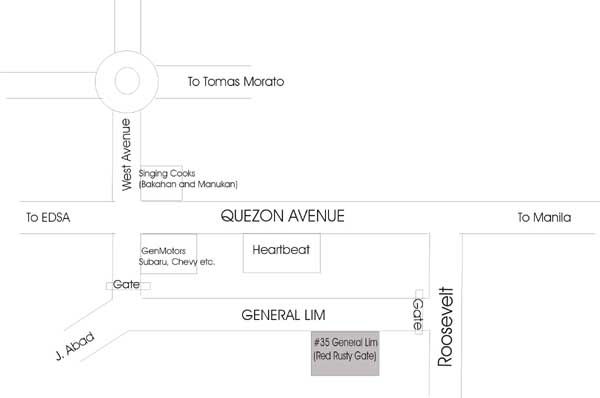 So, here's calling all HGR's out of the woodwork! The call to arms has been sounded. Transportation to the venue can be arranged amongst ourselves. The more the merrier I always say. Good luck and happy hunting gentlemen! ;)